O-Deer Family Fun Game
BEST GAME EVER FOR EVERY CHRISTMAS!
FLASH SALES: Limited Stock!
Let's play Christmas Reindeer games!

They wouldn't let poor Rudolph join in any Reindeer Games!

If your family want more laughter, you need it! Simply inflate and play by standing the same distance away, and taking it in turns to try to get the hoop. Help make your family closer to each other. 
Enjoy the great happiness of being gathered!
WHAT PEOPLE ARE SAYING ABOUT THIS O-DEER!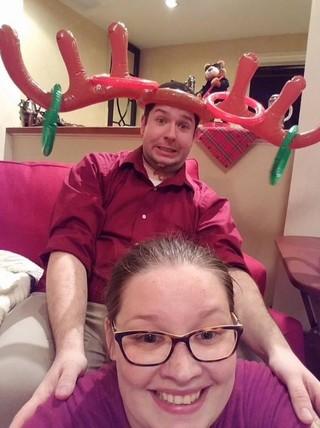 Best inflatable antlers I've ever purchased! I was dying to play a mean game of ring toss on Christmas. Get delivered these hand crafted inflatable antlers in an expedient fashion. A couple of huffs and puffs into the antlers and gently placing the antlers on my wife's head later, it was game on! I highly recommend these delectable antlers!

EMILY FINESTINE - UNITED STATES
This was hilarious at our Christmas Eve party. My husband was wearing it around and the kids all had such a good time with it. We had some trouble keeping the rings blown up but for the minimal expense it provided a lot of entertainment and laughs!!!!! And it made our goofy friend look even goofier! LOL My husband was such a trooper. The kids even took to trying to "ring" the antlers with hula hoops. Seriously hilarious addition to our always fun and beautifully chaotic Christmas Eve Celebration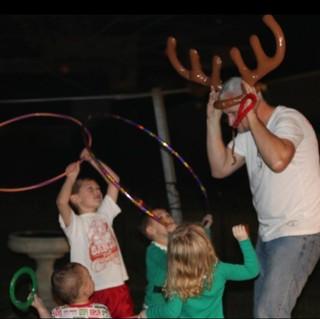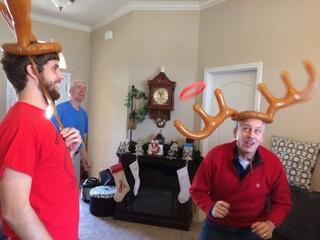 This was a blast! I have three children and my husband and I all got to use this and have fun on Christmas day. Worked well and did not seem to lose air at all. The valve does seem to be looser than other products that have an air valve but stayed put unless tugged on. Very fun and enjoyed this game.

JANE GOODMAN - UNITED KINGDOM
100% Money Back Guarantee
Order right now with confidence! Try it out for 30 days and if it doesn't work for you, you'll get your money back! There's absolutely no-risk in giving it a try. No questions asked, you can get your money back!
96% Of Customers Bought Family Set Or Big Family Set
We know that the more O-Deer you have, the more fun you get, we are running a special promotion during the Winter Sale
Get 25% Extra Off your entire order if you purchase Family Set
txtcont:--:

BUY MORE - SAVE MORE


O-Deer Game

:|~|:txtblclass:--:ba-17035662:|~|:ttl5cont:--:

50% OFF!

:|~|:ttl5blclass:--:ba-17035659:|~|:ttl4cont:--:

$14.99

:|~|:ttl4blclass:--:is-custom ba-17035660:|~|:ttl3cont:--:

$29.99

:|~|:ttl3blclass:--:is-custom ba-17035661:|~|:ttl2cont:--:
Standard
:|~|:ttl2blclass:--:ba-17035663:|~|:slctvrnt:--:31330758688839:|~|:shwqty:--:true:|~|:selclass:--:js-best-value-not-select:|~|:qty:--:1:|~|:prdurl:--:/cart:|~|:prdimgtp:--:variant:|~|:prdbtnltp:--:cart:|~|:prdbtnelt:--:_self:|~|:prdbtncpt:--:BUY NOW!:|~|:prdbtnclass:--:zpa-button-size-full-width zpa-button-padding-medium bcss-17035640:|~|:prdbtnalign:--:zpa-button-alignment-center:|~|:prdblclass:--:ba-17035640:|~|:lblvisattr:--:data-hidden-label:|~|:lbltxtcont:--:BEST VALUE:|~|:lblmdltxt:--::|~|:lblblclass:--:ba-17035678:|~|:imgimgattr:--:alt="" src="https://cdn05.zipify.com/1k7PDItQyzdRdJf-xHTlF0SVghI=/fit-in/960x0/18eb71004b1b419396beb6b30ec70351/standard.jpg" sizes="960px,830px,720px,590px,450px,220px" srcset="https://cdn05.zipify.com/OJfS8Ar8K8kGKzKuViccQminUDs=/fit-in/220x0/18eb71004b1b419396beb6b30ec70351/standard.jpg 220w, https://cdn05.zipify.com/iomfsL9YYw2sSEkKmBeHDeyRQHA=/fit-in/450x0/18eb71004b1b419396beb6b30ec70351/standard.jpg 450w, https://cdn05.zipify.com/R4i954TPVemLGnuil1xy0KdZOiY=/fit-in/590x0/18eb71004b1b419396beb6b30ec70351/standard.jpg 590w, https://cdn05.zipify.com/7IZxMAz2oTNL0mbYmVIPgyC503M=/fit-in/720x0/18eb71004b1b419396beb6b30ec70351/standard.jpg 720w, https://cdn05.zipify.com/fLBeEQQHHfJA6-Z0foVnbrgm0wA=/fit-in/830x0/18eb71004b1b419396beb6b30ec70351/standard.jpg 830w, https://cdn05.zipify.com/1k7PDItQyzdRdJf-xHTlF0SVghI=/fit-in/960x0/18eb71004b1b419396beb6b30ec70351/standard.jpg 960w":|~|:imgblclass:--:zpa-mobile-align--center zpa-align--center ba-17035669:|~|:img2blclass:--:zpa-mobile-align--center zpa-align--center ba-17035668:|~|:img2attr:--:alt="" src="https://cdn05.zipify.com/VJBYmz4ULFUTyZk_a68gfPfy4rs=/fit-in/960x0/eee496a237e34e21996cd3cbe737b4db/checkout_icon_trust.png" sizes="960px,830px,720px,590px,450px,220px" srcset="https://cdn05.zipify.com/wgEgrw9521_DHphihDQuwYfGn1s=/fit-in/220x0/eee496a237e34e21996cd3cbe737b4db/checkout_icon_trust.png 220w, https://cdn05.zipify.com/P_ijhDJJLkJotHPI675TSZHPbVU=/fit-in/450x0/eee496a237e34e21996cd3cbe737b4db/checkout_icon_trust.png 450w, https://cdn05.zipify.com/LH-_QaqkfPxXOysaPCTfKo8Q84s=/fit-in/590x0/eee496a237e34e21996cd3cbe737b4db/checkout_icon_trust.png 590w, https://cdn05.zipify.com/WnhJ3OA8yDCQCMcdPu0D1C-_0qU=/fit-in/720x0/eee496a237e34e21996cd3cbe737b4db/checkout_icon_trust.png 720w, https://cdn05.zipify.com/W1tVEMTCD5_9hRgk3kj3IQ2qJUA=/fit-in/830x0/eee496a237e34e21996cd3cbe737b4db/checkout_icon_trust.png 830w, https://cdn05.zipify.com/VJBYmz4ULFUTyZk_a68gfPfy4rs=/fit-in/960x0/eee496a237e34e21996cd3cbe737b4db/checkout_icon_trust.png 960w":|~|:handle:--:reindeer-games-ring-toss-family-fun-christmas-game:|~|:dcrt2class:--:ba-17035672:|~|:dcrt1class:--:ba-17035641:|~|:crtmsgclass:--:pcma-17035640:|~|:bvuppclass:--:uca-17035678:|~|:bvprcsvclass:--:hidden mat-17035678:|~|:bvcrnrclass:--:hidden lat-17035678:|~|:brd2blclass:--:ba-17035673:|~|:brd1blclass:--:ba-17035674:|~|:addcrtmsg:--:Product has been added to cart
txtcont:--:

BUY MORE - SAVE MORE


O-Deer Game

:|~|:txtblclass:--:ba-17035657:|~|:ttl5cont:--:




:|~|:ttl5blclass:--:ba-17035654:|~|:ttl4cont:--:

$34.99


:|~|:ttl4blclass:--:is-custom ba-17035655:|~|:ttl3cont:--:




:|~|:ttl3blclass:--:is-custom ba-17035656:|~|:ttl2cont:--:
Family
:|~|:ttl2blclass:--:ba-17035658:|~|:slctvrnt:--:31330758754375:|~|:shwqty:--:true:|~|:selclass:--::|~|:qty:--:1:|~|:prdurl:--:/cart:|~|:prdimgtp:--:variant:|~|:prdbtnltp:--:cart:|~|:prdbtnelt:--:_self:|~|:prdbtncpt:--:BUY NOW!:|~|:prdbtnclass:--:zpa-button-size-full-width zpa-button-padding-medium bcss-17035664:|~|:prdbtnalign:--:zpa-button-alignment-center:|~|:prdblclass:--:ba-17035664:|~|:lblvisattr:--::|~|:lbltxtcont:--:BEST VALUE:|~|:lblmdltxt:--::|~|:lblblclass:--:ba-17035677:|~|:imgimgattr:--:alt="" src="https://cdn05.zipify.com/niqFrFlYMkSYM5RBaCgkDLh03J0=/fit-in/960x0/d44fa06fa8ce4b0387b40ce584a8f0a9/family.jpg" sizes="960px,830px,720px,590px,450px,220px" srcset="https://cdn05.zipify.com/3SX21dTMqT8J7snj-pwa9OgR7XM=/fit-in/220x0/d44fa06fa8ce4b0387b40ce584a8f0a9/family.jpg 220w, https://cdn05.zipify.com/FChm6CsDpaFVCjG13Ap0If1D6RQ=/fit-in/450x0/d44fa06fa8ce4b0387b40ce584a8f0a9/family.jpg 450w, https://cdn05.zipify.com/UCpkra4kI-Edsu1ppdy8IsU3kVQ=/fit-in/590x0/d44fa06fa8ce4b0387b40ce584a8f0a9/family.jpg 590w, https://cdn05.zipify.com/8FQvsfAGFJJris0WnCTcNz_vjSA=/fit-in/720x0/d44fa06fa8ce4b0387b40ce584a8f0a9/family.jpg 720w, https://cdn05.zipify.com/-ED33kNKs7x_H0GPwCB5Dz59IjE=/fit-in/830x0/d44fa06fa8ce4b0387b40ce584a8f0a9/family.jpg 830w, https://cdn05.zipify.com/niqFrFlYMkSYM5RBaCgkDLh03J0=/fit-in/960x0/d44fa06fa8ce4b0387b40ce584a8f0a9/family.jpg 960w":|~|:imgblclass:--:zpa-mobile-align--center zpa-align--center ba-17035667:|~|:img2blclass:--:zpa-mobile-align--center zpa-align--center ba-17035648:|~|:img2attr:--:alt="" src="https://cdn05.zipify.com/VJBYmz4ULFUTyZk_a68gfPfy4rs=/fit-in/960x0/eee496a237e34e21996cd3cbe737b4db/checkout_icon_trust.png" sizes="960px,830px,720px,590px,450px,220px" srcset="https://cdn05.zipify.com/wgEgrw9521_DHphihDQuwYfGn1s=/fit-in/220x0/eee496a237e34e21996cd3cbe737b4db/checkout_icon_trust.png 220w, https://cdn05.zipify.com/P_ijhDJJLkJotHPI675TSZHPbVU=/fit-in/450x0/eee496a237e34e21996cd3cbe737b4db/checkout_icon_trust.png 450w, https://cdn05.zipify.com/LH-_QaqkfPxXOysaPCTfKo8Q84s=/fit-in/590x0/eee496a237e34e21996cd3cbe737b4db/checkout_icon_trust.png 590w, https://cdn05.zipify.com/WnhJ3OA8yDCQCMcdPu0D1C-_0qU=/fit-in/720x0/eee496a237e34e21996cd3cbe737b4db/checkout_icon_trust.png 720w, https://cdn05.zipify.com/W1tVEMTCD5_9hRgk3kj3IQ2qJUA=/fit-in/830x0/eee496a237e34e21996cd3cbe737b4db/checkout_icon_trust.png 830w, https://cdn05.zipify.com/VJBYmz4ULFUTyZk_a68gfPfy4rs=/fit-in/960x0/eee496a237e34e21996cd3cbe737b4db/checkout_icon_trust.png 960w":|~|:handle:--:reindeer-games-ring-toss-family-fun-christmas-game:|~|:dcrt2class:--:ba-17035671:|~|:dcrt1class:--:ba-17035676:|~|:crtmsgclass:--:pcma-17035664:|~|:bvuppclass:--:uca-17035677:|~|:bvprcsvclass:--:mat-17035677:|~|:bvcrnrclass:--:lat-17035677:|~|:brd2blclass:--:ba-17035644:|~|:brd1blclass:--:ba-17035645:|~|:addcrtmsg:--:Product has been added to cart
txtcont:--:

BUY MORE - SAVE MORE


O-Deer Game

:|~|:txtblclass:--:ba-17035652:|~|:ttl5cont:--:




:|~|:ttl5blclass:--:ba-17035649:|~|:ttl4cont:--:

99.99


:|~|:ttl4blclass:--:is-custom ba-17035650:|~|:ttl3cont:--:




:|~|:ttl3blclass:--:is-custom ba-17035651:|~|:ttl2cont:--:
BIG FAMILY
:|~|:ttl2blclass:--:ba-17035653:|~|:slctvrnt:--:31330758787143:|~|:shwqty:--:true:|~|:selclass:--:js-best-value-not-select:|~|:qty:--:1:|~|:prdurl:--:/cart:|~|:prdimgtp:--:variant:|~|:prdbtnltp:--:cart:|~|:prdbtnelt:--:_self:|~|:prdbtncpt:--:BUY NOW!:|~|:prdbtnclass:--:zpa-button-size-full-width zpa-button-padding-medium bcss-17035639:|~|:prdbtnalign:--:zpa-button-alignment-center:|~|:prdblclass:--:ba-17035639:|~|:lblvisattr:--:data-hidden-label:|~|:lbltxtcont:--:BEST VALUE:|~|:lblmdltxt:--::|~|:lblblclass:--:ba-17035647:|~|:imgimgattr:--:alt="" src="https://cdn05.zipify.com/Iy8yJsTHAiQCEsWcDL5fSb6RhhQ=/fit-in/960x0/1f649ed9b93b442c8c33c0dd0a132e6f/big-fam.jpg" sizes="960px,830px,720px,590px,450px,220px" srcset="https://cdn05.zipify.com/zamnwI9HalEGIsCVHUOGN-KkjEA=/fit-in/220x0/1f649ed9b93b442c8c33c0dd0a132e6f/big-fam.jpg 220w, https://cdn05.zipify.com/BwHxpIlkuzdhqPeiFIq7gFNwlak=/fit-in/450x0/1f649ed9b93b442c8c33c0dd0a132e6f/big-fam.jpg 450w, https://cdn05.zipify.com/zZ179cLDSh5fUARtDnwfvHRyZ5g=/fit-in/590x0/1f649ed9b93b442c8c33c0dd0a132e6f/big-fam.jpg 590w, https://cdn05.zipify.com/FLKK1ZjhOg0yyna00J2cjJ7TX60=/fit-in/720x0/1f649ed9b93b442c8c33c0dd0a132e6f/big-fam.jpg 720w, https://cdn05.zipify.com/O2BZSu5pk3QP6bS7zlWWJwSYngo=/fit-in/830x0/1f649ed9b93b442c8c33c0dd0a132e6f/big-fam.jpg 830w, https://cdn05.zipify.com/Iy8yJsTHAiQCEsWcDL5fSb6RhhQ=/fit-in/960x0/1f649ed9b93b442c8c33c0dd0a132e6f/big-fam.jpg 960w":|~|:imgblclass:--:zpa-mobile-align--center zpa-align--center ba-17035646:|~|:img2blclass:--:zpa-mobile-align--center zpa-align--center ba-17035666:|~|:img2attr:--:alt="" src="https://cdn05.zipify.com/VJBYmz4ULFUTyZk_a68gfPfy4rs=/fit-in/960x0/eee496a237e34e21996cd3cbe737b4db/checkout_icon_trust.png" sizes="960px,830px,720px,590px,450px,220px" srcset="https://cdn05.zipify.com/wgEgrw9521_DHphihDQuwYfGn1s=/fit-in/220x0/eee496a237e34e21996cd3cbe737b4db/checkout_icon_trust.png 220w, https://cdn05.zipify.com/P_ijhDJJLkJotHPI675TSZHPbVU=/fit-in/450x0/eee496a237e34e21996cd3cbe737b4db/checkout_icon_trust.png 450w, https://cdn05.zipify.com/LH-_QaqkfPxXOysaPCTfKo8Q84s=/fit-in/590x0/eee496a237e34e21996cd3cbe737b4db/checkout_icon_trust.png 590w, https://cdn05.zipify.com/WnhJ3OA8yDCQCMcdPu0D1C-_0qU=/fit-in/720x0/eee496a237e34e21996cd3cbe737b4db/checkout_icon_trust.png 720w, https://cdn05.zipify.com/W1tVEMTCD5_9hRgk3kj3IQ2qJUA=/fit-in/830x0/eee496a237e34e21996cd3cbe737b4db/checkout_icon_trust.png 830w, https://cdn05.zipify.com/VJBYmz4ULFUTyZk_a68gfPfy4rs=/fit-in/960x0/eee496a237e34e21996cd3cbe737b4db/checkout_icon_trust.png 960w":|~|:handle:--:reindeer-games-ring-toss-family-fun-christmas-game:|~|:dcrt2class:--:ba-17035670:|~|:dcrt1class:--:ba-17035675:|~|:crtmsgclass:--:pcma-17035639:|~|:bvuppclass:--:uca-17035647:|~|:bvprcsvclass:--:hidden mat-17035647:|~|:bvcrnrclass:--:hidden lat-17035647:|~|:brd2blclass:--:ba-17035642:|~|:brd1blclass:--:ba-17035643:|~|:addcrtmsg:--:Product has been added to cart
:|zpendofcontent|: