5 In 1 Led Skin Tightening
This 5 In 1 Led Skin Tightening device is a facial beauty device which is good for daily facial care, skin rejuvenation, skin toning, wrinkle removal, anti-aging, skin renewal, pimple removal, blemish removal, anti-allergy, pore size reduction and increasing skin elasticity. Skin products should be applied. It helps skin absorbing the products more efficiently. Daily treatment is acceptable. It is a rechargeable beauty device. System will stop each 10 minutes automatically!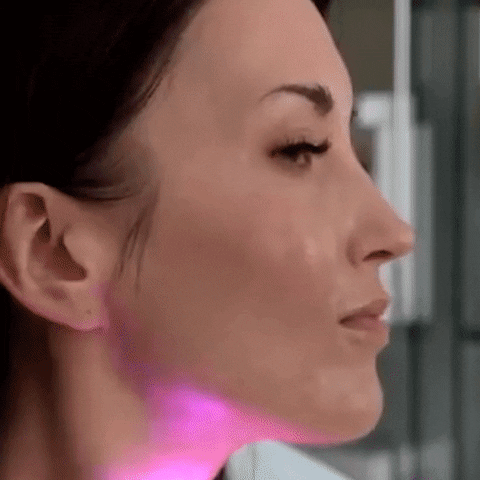 FEATURES:
✔️ Microcurrent - Four elements are used to ensure that the electrical current works randomly and stimulates the muscle tissue very gently causing a secondary muscular movement that preserves the skin's elasticity and suppleness.

✔️ Eectropration - Introducing beauty essence into your skin This beauty machine is used for collagen injection without a needle. Macromolecular components such as collagen and hyaluronic acid cannot easily penetrate the deep layer of the skin from the surface. But with our special technology called
"Electroporation" you can achieve a high level of effectiveness without any pain.

✔️ Mesoporation - Nutrition import penetration compared with ions from the skin surface is1mm about 10 times , 4mm about 27 times. The active ingredients into the skin can guarantee. Which can function efficiently, so you really feel the skin improvement and delay aging effect.

✔️ RF - For detoxification, lymphatic drainage, improve blood circulation Electrical energy tends to follow the shortest distance between two electrodes. When electricity runs through living tissue the high energy flow generates heat as a characteristic of the electrical energy and the resistance to electricity by the living tissue. This is another feature of Dr. Arrivo that adapts electricity to be gentle on the skin.

✔️ LED - For treatment of acne lesions It works efficiently without damaging the skin by using an especially sensitive LED light developed exclusively for beauty equipment.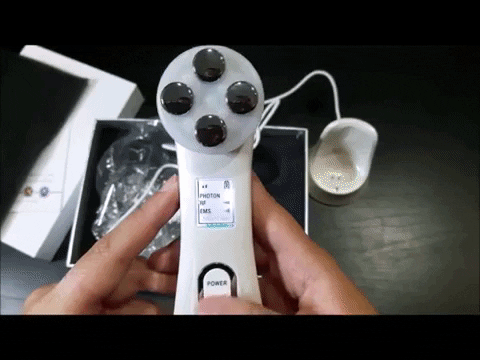 SPECIFICATIONS:
Model 1: The 1st time push the LED light selection key, pink lighting. Wavelength: 700nm(+/- 10nm) Whitening skin, fit for dark skin complexion.
Model 2: The 2nd time push the LED selection key, pink flashing. Wavelength: 700nm(+/- 10nm) Strengthen absorb of the beauty liquid or gel, skin whiter
Model 3: The 3ed time push the LED light selection key, red lighting. Wavelength: 620nm(+/- 10nm) Promote collagen regeneration, skin elasticity, fit for wrinkles for relaxation skin.
Model 4: The 4th time push the LED light selection key, yellow lighting. Wavelength: 590nm(+/- 10nm) Brightens the complexion, the skin has a clear sense, fit for spots and dull skin people
Model 5: The 5th time push the LED light selection key, blue lighting. Wavelength: 415nm(+/- 10nm) Inflammatory sedation, shrink pores suitable for acne or oily skin
PACKAGE INCLUDES:
1 x 5 In 1 Led Skin Tightening
1 x USB + Charger Base
1 x Manual        
FREE WORLDWIDE SHIPPING!
Please allow 7-10 Days for delivery to the United States, Canada, United Kingdom, Australia, New Zealand and all European Union Countries.
Please allow up to 2-3 weeks for delivery to the rest of the world.