GET HIGH PRESSURED WATER EVERYWHERE AND ANYWHERE!
High pressured water pump anywhere and everywhere! Designed to work with a corded or cordless drill, the Electric Drill Pump is a convenient invention that lets you pump or get better-pressured water with just an electric drill! Electric Drill Pump fits most electric drills, converts virtually any drill into a high capacity pump capable of emptying sinks, aquariums, pool skimmers and much more!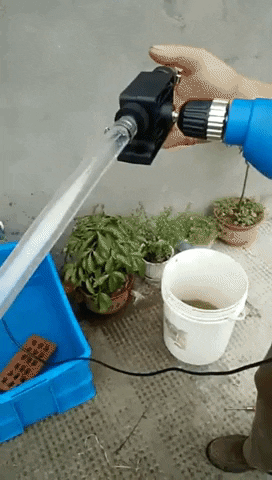 FEATURES:
✔️ Ideal for transferring light liquids, such as freshwater, seawater, oil, dilute organic solvents, insecticides, and liquid fertilizers.
✔️ Small size, lightweight and portable, convenient installation; this electric drill powered pump is suitable for home, garden and outdoor. 
✔️ Exquisite workmanship, small size, lightweight, convenient installation.
✔️ High flow, stable performance, and high efficiency.
✔️ Fit all drill chucks, you can get a pump with an electric drill.
INSTRUCTIONS:

To assure optimum priming and long life, apply a few drops of lubricating oil in pump inlet prior to each use and flush with clean water after each use.
Be sure inlet hose is airtight and as short as possible. Inlet hose should not exceed 3m.
When pumping abrasive fluids or liquids with solids, longer pump life will be obtained by using a strainer on the inlet line
It is recommended that the pump is mounted to a surface for security and ease of use.
Mount and start drill. Watch inlet tub into be certain fluid is drawn into pump in 15-20 seconds. If not, check that the inlet tube is properly mounted to the inlet pump.
Do not run dry if the pump fails to prime, check to be sure that hoses are not clogged. Pump depends on the fluid being pumped for lubrication.
NOTE: DO NOT run the pump in reverse.
SPECIFICATIONS:
Material: Engineering plastics
Pump shank: 8mm round shank
Transmission medium: Oil/Water pump
Self-priming: 9ft
Impeller structure: Rubber impeller
Fitment: For electric drill
PACKAGE INCLUDES:
1 x Electric Drill Pump
2 x Hose clamps
2 x Connectors
FREE WORLDWIDE SHIPPING!
Please allow 7-10 Days for delivery to the United States, Canada, United Kingdom, Australia, New Zealand and all European Union Countries.
Please allow up to 2-3 weeks for delivery to the rest of the world.