Golf Arm Band Training Aid
Beginning and advance players can benefit from one of the most popular golf swing training aid of all time.  The Golf Arm Band Training Aid develops a fundamental part of the golf swing!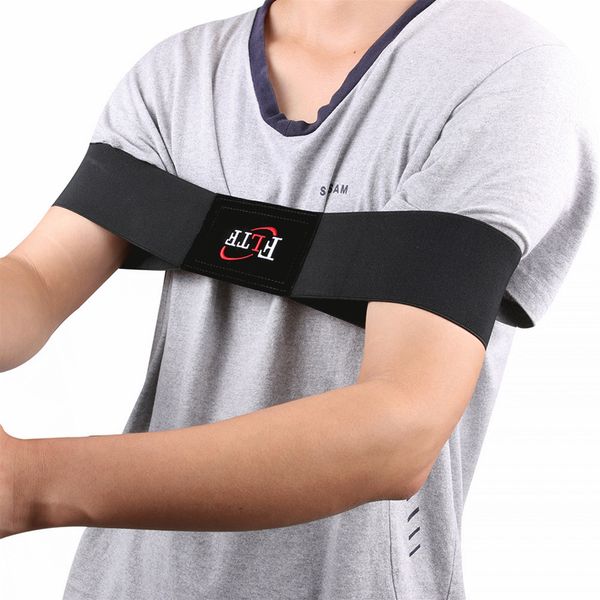 Consistent arm angles at address and impact are vital to consistent golf play and accurate shot-making.  The "V" shape created by the arms helps maintain a proper swing plane.  This arm band helps prevent a common swing fault – the flaring back elbow that moves away from the body during the backswing.  The result is a swing plane that is too steep and produces "thin" or "fat" shots and poor ball striking.
FEATURES:
✔️ Helps develop a "V" shaped arm motion at take-away through backswing and follow-through
✔️ Promotes a one-piece takeaway motion to keep arms and body in sync
✔️ Helps keep back elbow close to body during swing and avoid elbows bending and flaring outwards
✔️ Develops a more efficient swing motion to improve consistency, accuracy, and distance
✔️ Works for both left and right-handed players
✔️ Elastic and nylon construction; One-size fits most
SPECIFICATIONS:
Material: Elastic Nylon
Size: approx. 39 X 7 cm/15.35 X 2.76"
Weight: Approx. 52 g
PACKAGE INCLUDES:
1 x Golf Arm Band Training Aid
FREE WORLDWIDE SHIPPING!
Please allow 7-10 Days for delivery to the United States, Canada, United Kingdom, Australia, New Zealand and all European Union Countries.
Please allow up to 2-3 weeks for delivery to the rest of the world.