Cutting perfect round circle on metal sheets?
Cutting metal with normal cutter is frustrating and you can't get the perfect edge. Introducing the Metal Sheet Hole Cutter, with this cutting tool you can get a perfect metal cut and it's safe! Cutting sheet materials will never be the same with the help of Metal Sheet Hole Cutter. This dual head metal nibbler cutter is to be used with an electric drill or air drill. It's light, compact and sleek. Plus, there are no cords to get in the way. Capable of cutting any kind of thin metal. With the help of the rod guide, cutting a perfect straight line or perfect circle is no longer a dream!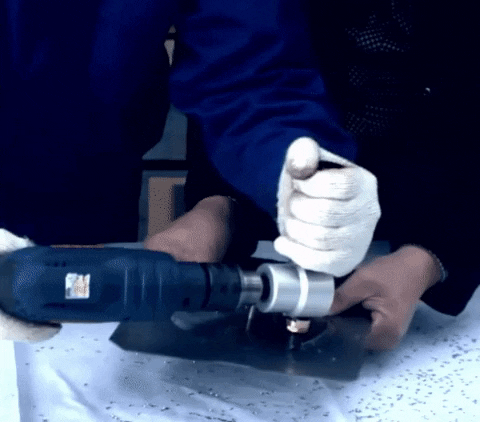 FEATURES:
✔️ Easy and fast to cut 14 gauge material and creates a precision, burr-free edge.
✔️ Double cutting head to cut a straight line, curve line, and circles.
✔️ Perfect for metal sheet, corrugated material, pipes, complex profiles, powder coated material, stainless steel, copper, aluminum, Formica, plastic, fiberglass
✔️ Fits any drill that works between 1500-3000 RPM, works easier and powerful than normal shears and snips.
SPECIFICATIONS:
Rotation Speed: 1500-3000rpm
For main metal sheet cutting: Iron plate1.8mm max (Use Range: ≤1:5mm).
Stainless steel plate 1.2mm max (Use Range: ≤0.8mm)
For other material cutting: copper or aluminum plate 2.0mm max.
Plastic or plywood 2.0mm max.
Fiberglass: 2.0mm max.

Material: Metal
PACKAGE INCLUDES:
1 x Metal Sheet Nibbler Cutter
1 x Plastic Handle
1 x Cutting Round Accessories
1 x Nibbler Cutter Die
1 x Nibbler Cutter Punch
1 x Wrench
1 x Iron Tool Box
1 x User Manual
FREE WORLDWIDE SHIPPING!
Please allow 7-10 Days for delivery to the United States, Canada, United Kingdom, Australia, New Zealand and all European Union Countries.
Please allow up to 2-3 weeks for delivery to the rest of the world.