LED daylight is a trend for new vehicles nowadays. Installing one might need you to have some basic wiring knowledge!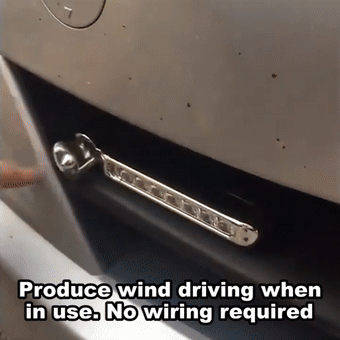 This Wind Powered LED Light is a plug and play light that powered by wind kinetic energy that requires no wiring at all, just remove the adhesive film and stick it onto your grill.  Wind-Powered LED Light adopt 8 high brightness LEDs that are waterproof, no worries during rainy days, the LED will still work as usual!
Equipped with mounting bracket for adjustable angle; 3 M sticker with solid color without excellence. Integrated design, small size, compact structure, new appearance.
FEATURES:
✔️ ENERGY SAVING: The use of wind power generated while driving. Without wiring, easy installation, the vehicle speed reaches the 40 horsepower, LED will light up. Night like little stars, and more help your driving safety, giving you a better driving experience.
✔️ BRIGHTNESS: The selection of eight high brightness LED, energy-saving, long working life. effectively lighting up the forward dark road, turning night into day.
✔️ ADJUSTABLE MOUNTING BRACKET: With mounting brackets, angle can be adjusted, makes changing direction of light beam easier. You can get extremes distant and wide view area lighting. It's really a good off road light.
✔️ HIGH PERFORMANCE: Comes with a double-sided adhesive tape and is securely mounted. Waterproof, dust-proof, quake-proof, anti-corrosion for harsh environment. It can be widely used to most of vehicle styles. (Off-Road, SUV, ATV, UTV, Trucks, Marine, Boat etc.)
SPECIFICATIONS:
Power: 0.06W x 8 
Voltage: 12V 
Operating Voltage: 8-30V 
Lumens: 8 x (2-3LM) 
Color Temperature: 6000K-7000K 
Working Life: 50,000 hours 
Material: Engineering plastics and electric components
PACKAGE INCLUDES:
2 x Wind Powered LED Light
FREE WORLDWIDE SHIPPING!
Please allow 7-10 Days for delivery to the United States, Canada, United Kingdom, Australia, New Zealand and all European Union Countries.
Please allow up to 2-3 weeks for delivery to the rest of the world.